Christian Fries: OS X Software
Serial Mail

Version 4.6 - This program is compatible with Mac OS 10.6 (Snow Leopard).
Serial Mail is a plug in for Apple Mail to generate serial mailings from a template using data provided by an Address Book group. The program will process the message body of the (selected) template message and replace strings like <ab:first_name/> and <ab:last_name/> by their corresponding value from the Address Book for each recipient.
It supports almost all entries of the Mac OS X Address Book.
Note
If your template uses formatted text and/or large attachments then mail generation will be very slow (in some cases Apple Mail will crash). This is due to the sloppy AppleScript support in Apple Mail. Serial Mail is relying on AppleScript to communicate with Apple Mail. Keep your templates simple.
Download
A 826 KB zip file containing the application is available for download.
Pricing & Licence
| | |
| --- | --- |
| | From a legal point of view this program is Shareware. If you consider this program useful, support its development by making a donation. Donations may be done by credit card (Visa Card, MasterCard, Discover or American Express) through PayPal (secure). The amount is up to you. By making a donation you acquire the right to use this program. By donating you also support the development of this and future programs. |
In return you will receive a registration code. Enter this code in the text field appearing when you disable the 'Made with Serial Mail' message in the preferences window.
Documentation
Extensive documentation is available in English and German (what you will see here is actually a copy of the Mac OS X Online Help Book integrated into the application. So just download the application, launch it and select help.
The software is localized to German (i.e. depending on your system wide preferences it will automatically present itself in German or English).
Screenshot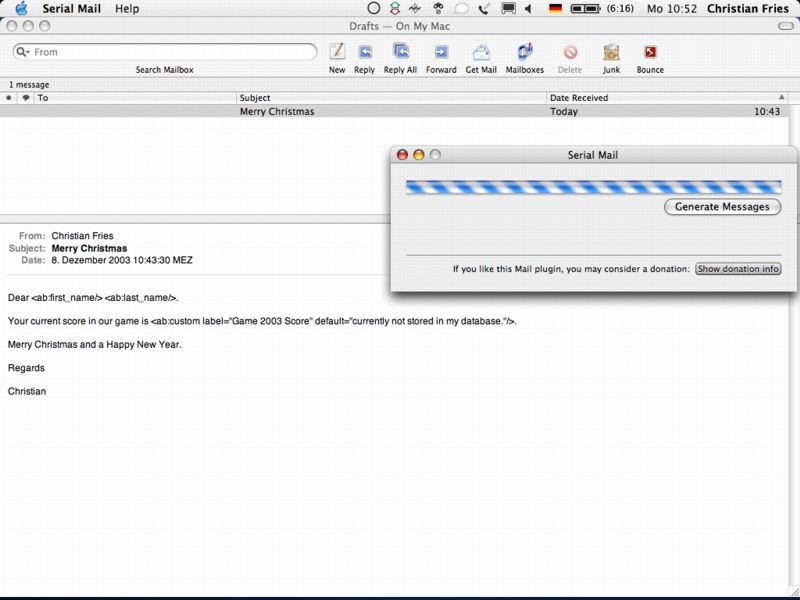 Example
Step 1: Open your Address Book and create a group of people to which you would like to send a personalized mailing.
Step 2: Create a template message and save it as drafts.
The figure below shows an example of a template message. For each person in an address book group (specified later) Serial Mail will generate a personalized mailing. The tags (1, 2) will be replaced by the data from the address book for each recipient. You may include attachments created from files (3).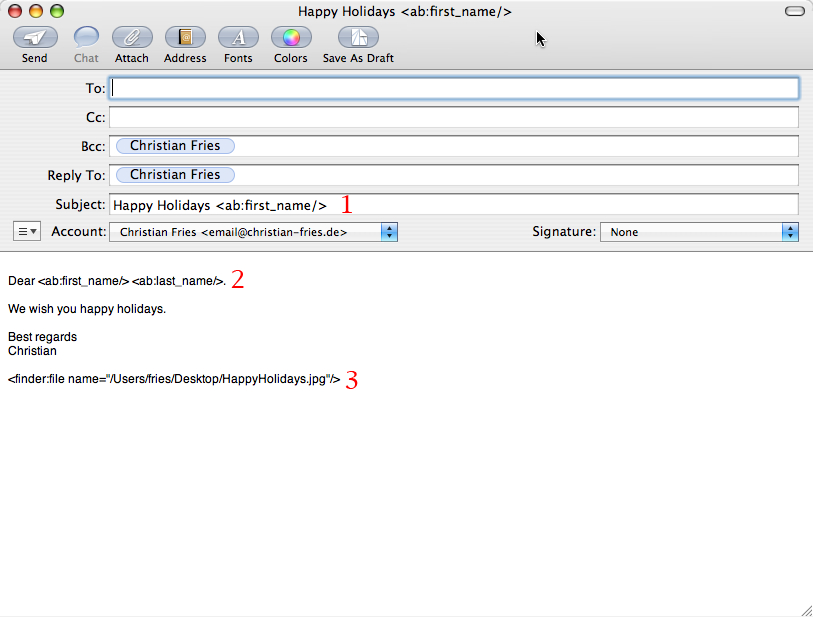 Step 3 and 4: Select the template in your drafts folder (don't open it, just select it). Launch serial mail, klick "Generate Messages" and follow the instructions.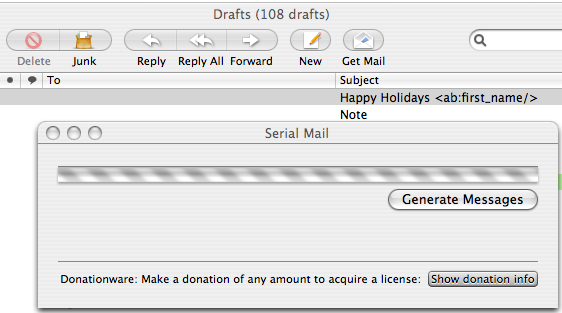 Result
Move the mouse over the picture blow to see how a generated message will look like.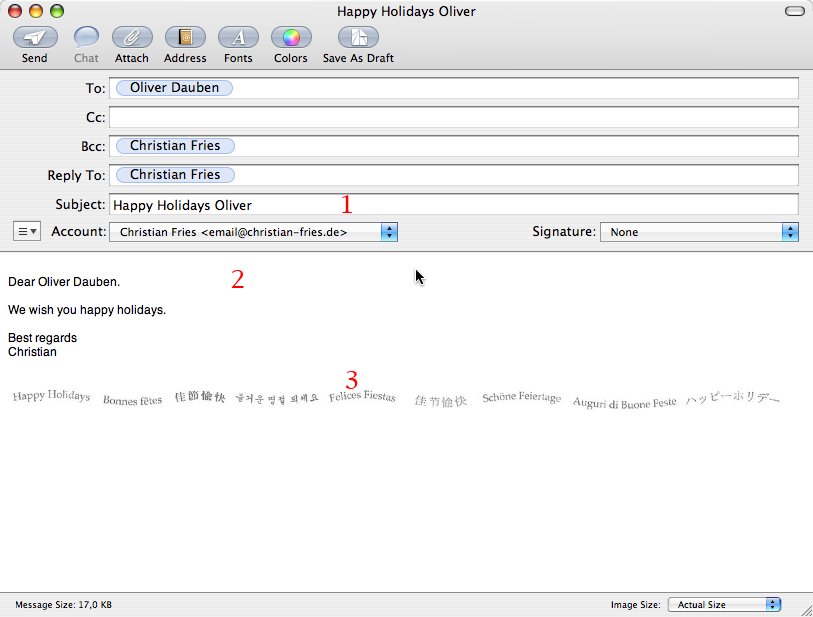 Notes
Programming Language
Requirements
Mac OS X 10.5.4
Apple Mail 3.4
Apple Address Book 4.1.1
History
Created: 02-Nov-2003.
Last update: 21-Jul-2009.
Comments welcome.
---
You will still be here tomorrow, but your dreams may not. (The Father to Son (Cat Stevens))
---