I will give a one day lecture as part of the
Certificate FAME Program
2006 at the
swiss finance institute
.

The lecture will take place August 2
nd
at University of Lausanne. See
the program of this event
for details. As precourse reading you should consider Chapter 8, 9 and 10 (interest rate basics), Chapter 12 (exotic derivatives) and Chapter 15 (libor market model) of my
lecture notes
. These chapters are available in
english
and
german
.


I am missing my black Moleskine A6 size notebook. Beside some notes there was my ID in it (in the pocket on the last page). Since getting a replacement ID will cost me time and money I - of course - offer the reward stated in the book (see first page of book). Most likely, I left the book on July 13th in the Marriiot Financial Center NYC conference room on the 3rd floor or the Starbucks around the corner.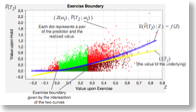 I participated in the
ECMI 2006
Mini-Symposium "Optimal stopping and optimal control problems in finance", Madrid, and the Risk Quant Congress USA 2006, New York. The updated presentation of my talk "Monte-Carlo Pricing of Bermudan Options: Removal of Super-Optimal and Sub-Optimal Exercise" may be
download as a PDF file
.