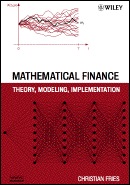 Wiley released a second printing of my book. The second printing is based on Version 1.6.11 of the PDF file. It thus contains many of the error corrections listed on the
errata page
. In addition, I rewrote a few sections (25 pages changed), but the difference to the old version is still minor. Major improvements, like new sections will be posted to the
book's update page
. (The version number is printed on page v).
PS: I will donate a larger part of my 2007 net revenue to charity organizations (like the Fördergemeinschaft Deutsche Kinderherzzentren and Deutsche Krebshilfe (German Cancer Aid)). However: my net revenue is comparably small. From Wiley I get approximately $3 per book. BTW: Sorry for the price tag. I wasn't aware that the author does not have any influence on the pricing of his book.
Sample chapters for "Mathematical Finance" are available as a free download from the
book's homepage
.